The new working meeting of the Professional Committee of Aquatic Laboratory Animals of the Chinese Society of Laboratory Animals was held in Nanjing
On December 19, 2019, the new working conference of the Professional Committee of Aquatic Laboratory Animals of the Chinese Laboratory Animal Society (hereinafter referred to as the special committee) was successfully held in Nanjing Shuguang International Hotel.
The meeting first reviewed and approved the report of the work of the professional committee made by the researcher Li Kaibin, the chairman of the third special committee. At the first plenary meeting of the fourth session of the committee, the chairman, deputy directors and standing members of the fourth session of the special committee were elected. Researcher Huang Zhibin, deputy director of the Pearl River Fisheries Research Institute of the Chinese Academy of Fishery Sciences, was elected as the chairman of the new special committee; Professor Zhao Qingshun of the Institute of Model Animals of Nanjing University; researcher Wang Jianwei of the Institute of Aquatic Biology of the Chinese Academy of Sciences; Senior engineer and researcher Liu Kechun, director of the Institute of Biology of Shandong Academy of Sciences, is the deputy chairman; deputy general manager of Nanjing Yaoshun Yu Biotechnology Co., Ltd. Wang Mingkai is an executive member. After being nominated by the new chairman, the meeting appointed Deputy Researcher Chang Yingqin as the secretary general of the committee. The meeting was chaired by Zhao Hongxu, Secretary General of the Chinese Society of Experimental Animals.
Later, Chairman Huang Zhibin made an inaugural speech, and presided over and discussed and approved the work plan of the Fourth Aquatic Laboratory Animal Professional Committee. The new session of the special committee will be guided by Xi Jinping's thoughts of socialism with Chinese characteristics in the new era, and under the leadership of the General Assembly, actively play a role of bridge and bond, unite and lead the majority of aquatic experimental animal workers, unite their efforts, and open up innovation Increase the influence of the Aquatic Laboratory Animals Commission. Focusing on the development, application and industrialization of aquatic experimental animal resources, focus on the communication and cooperative research between committee units and international peers; accelerate the establishment of group standards, and do scientific popularization and theoretical and technical training.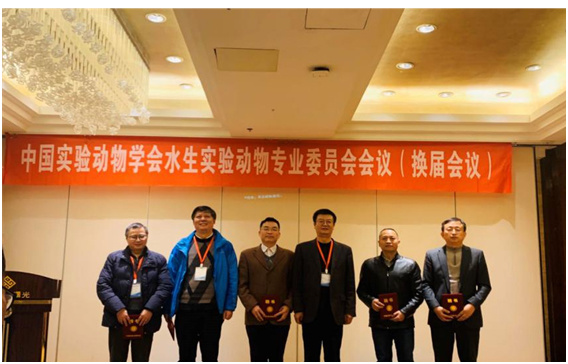 The conference held a symposium on zebrafish model and human disease and environmental health risk assessment. Many representatives from domestic scientific research institutions, universities, medical institutions and enterprises attended the meeting.